Products
Warning
: Use of undefined constant ASC - assumed 'ASC' (this will throw an Error in a future version of PHP) in
/home/customer/www/drbenlerner.com/public_html/wp-content/themes/Personal-Blog-Portfolio/archive-products.php
on line
37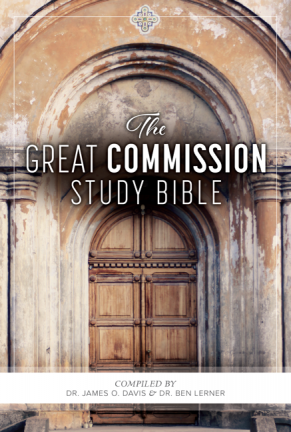 The Great Commission Bible
1,500 powerful pages focused on The Great Commission
Nearly 500 articles, devotionals and commentaries
Complete 2,000 year graphic summary of Christianity worldwide
More than 100 leading contributors from around the globe
An extensive Study Guide entitled "Finding Your Role In God's Goal"
Certificate of Authenticity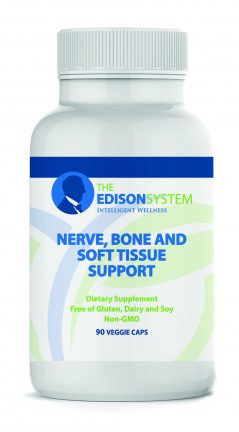 The Edison Pack
The Edison System is specially designed to support the body's organ systems and it's ability to heal and maintain itself.
Nutrient type and amount: Addresses both form and dose to optimize effectiveness and get actual results.
Unique formulas, exclusively designed for the AMC Family to meet the goals of a principled chiropractor.
Non-GMO ingredients.
Allergen-free: Gluten-free, Dairy-free, Soy-free.
Each pack contains one bottle of nerve, bone, and soft tissue support, and one bottle of multivitamins. The men's and women's combination contains half men's and half women's supplements.
The Nerve, Bone and Soft Tissue Support formula provides nutrients that are known to support the nervous system, decrease inflammation, and provide essential nutrients required to restore and maintain the health of joints, bones, and soft tissue. The Multivitamin contains the right type, dose, and balance of vitamins, minerals, and essential nutrients known to provide the body with key elements needed to function, heal, and maintain itself.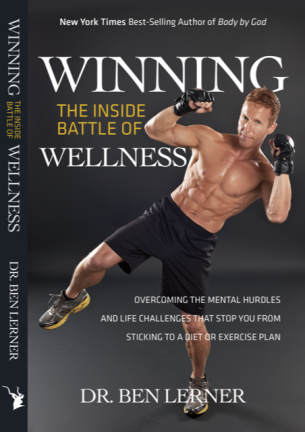 Winning the Inside Battle of Wellness
Statistically, best-selling author and doctor Ben Lerner should have ended up like his parents–sick, addicted to nicotene and dead of a heart attack or stroke by the time he hit middle age. But from an early age he saw the consequences of poor health choices and made a commitment not to follow in their footsteps.
"It is neither genes nor upbringing that makes the difference," he writes. "It's choice. You don't have to win a battle of evolution to be healthy."
In Winning the Inside Battle of Wellness, Dr. Ben guides readers on a journey toward total health–mind, body and spirit. Instead of immediately tackling diet, he begins with the mind, uncovering how eating and lifestyle habits can shape the way our brain develops–and how we can harness those same forces to become healthier.
Next, Dr. Ben explores how our personalities and emotional health can impact our wellness and offers practical tools for deeper self-awareness, reshaping the way we think and respond to our environment and relationships. Finally, he addresses the biological impact of various foods and activities on our bodies and offers a roadmap for transforming the way we eat–tricking our bodies into craving the foods that will ensure a long and healthy life.
Complete with dietary charts, exercise plans, recipes and practical tips, Winning the Inside Battle of Wellness will help you overcome the challenges that stand between you and a healthy, fulfilling lifestyle.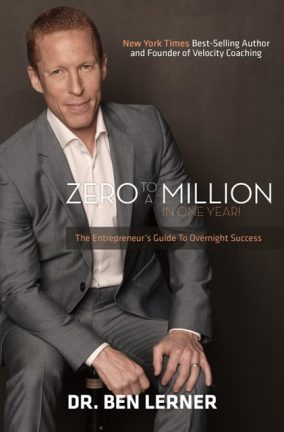 Zero to a Million in One Year: An Entrepreneur's Guide to Overnight Success
A successful author, entrepreneur and chiropractor, Dr. Ben Lerner is also a self-described graduate of the school of hard knocks. But if he has his way, you will avoid some of the painful classes he took and chart a course for financial profit and personal growth.
In Zero to a Million, Dr. Lerner shares the proven strategies that allowed him to create successful partnerships with professional and Olympic sports teams, major corporations, megachurches, government, schools, and school systems.
In his comprehensive guide, Dr. Lerner provides practical tools and little-known secrets to starting and growing a business, including topics such as:
– identifying your mission
– maintaining quality and standards in your products and services
– cultivating and protecting your business culture
– communicating your message
– growing your capacity
– navigating the nuts and bolts of finances
– building a team
– much more …
Ultimately, a business is only as strong as its leader. With a unique perspective, grounded in years of experience, Dr. Lerner guides readers in developing the most crucial aspect of their business–themselves.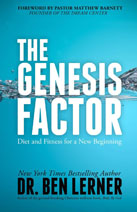 The Genesis Factor
Dr. Ben Lerner
INCLUDING: THE GENESIS CHALLENGE
30 Day Meal Plan – delicious meal plans, recipes, shopping guide, and "what to eat" list
The good news is, no matter where you are with your health today, you can be made new – or "newer" by tapping in to the Genesis Factor. In this program, we're going to reveal to you the best, EASIEST, AND FASTEST possible ways to maximize fitness, optimize leanness, and eat right for your hormones – all as an essential plan to upgrade and/or restore wellness.
PLUS:
RUN FOR HOPE: Training plans to go from the couch to a 5K, 10K, ½ marathon, or marathon in as little as 6 weeks!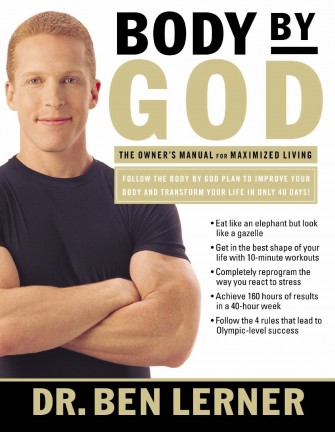 Body by God: The Owner's Manual for Maximized Living
Dr. Ben Lerner
Your body is by God. God preprogrammed you to look great, have outrageous health, and experience incredible happiness. In the human body, God created a perfect design, equipped with all the organs, tissues, and cells necessary for health, production, and reproduction. The problem, asserts Dr. Ben Lerner, is when we as humans interfere with God's design for our bodies. Junk food, high-stress living, and neglecting exercise are just a few of the things we do to hinder our bodies' performance.
In Body by God, Dr. Lerner offers a comprehensive plan for getting in touch with our bodies in four areas: nutrition, exercise, stress management, and time management. His "5-in-5" plan is designed to instill the good habits that will lead to optimum health benefits. Readers will learn how to get in shape with 10-minute workouts, reprogram the way they react to stress, and more. "Owner's Manual Tips" give specific ways to apply the material to real life. Our bodies are "fearfully and wonderfully made." With the help of Body by God, readers will learn how to achieve the highest level of performance from God's handiwork.